EQ-I 2.0 (Emotional Quotient Inventory)
Assessment Overview:

One of the world's leading measures of emotional intelligence with over 25 years of research behind it. It focuses on learnable skills that will help you become the best version of yourself.


Assessment Experience
It is a self-report emotional intelligence assessment that generates an overall EI score along with five composite scores: self-perception, self-expression, interpersonal, decision making, and stress management. During the debrief, we will help you make sense of your report and set goals for development.
Empty space, drag to resize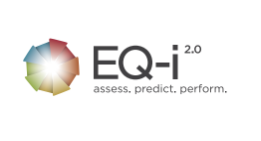 Learn More
Why the EQ-I 2.0® is valuable for teams and organizations?

The Emotional Quotient Inventory- EQ-I 2.0 provides insights into building relationships and teams, how to better manage conflict, more effective decision making and problem solving, building resilience and pathways to experiencing more well-being. It can be used at the individual, team, or organizational level to unlock hidden potential and pathways to thriving.

What is each participant provided?

You will be provided a report that will set you up for success. There are a variety of reports available: workplace report, leadership report, and group reports. Based on your desired outcome, we will help you pick the report that best meets your needs. Use the report to improve the dynamics on your team.

What are key insights you might have from the report?

Develop emotional capabilities on teams
Develop your awareness on how emotions are impacting your decision-making skills
Resolve conflicts on teams
Develop more effective leaders within the organization
Build skills that are directly related to the employee experience
Subscribe to our newsletter now!
Get weekly updates on live streams, news and more right in your mailbox.