EQ-I 2.0 360
(Emotional Quotient Inventory)
Assessment Overview:

Building off one of the world's leading measures of emotional intelligence (EQ-I 2.0), this assessment allows leaders to receive feedback from peers, managers, direct reports, and others. Feedback provides gaps in how you think others are experiencing you and how they are experiencing you.


Assessment Experience
It is multi-rater assessment that combines your perceptions of your EQ with the perceptions of others who know you well but from different vantage points. The assessment is sent to you and your identified raters. The feedback is mixed together so some level anonymity in responses might be possible. A debrief is provided.
Empty space, drag to resize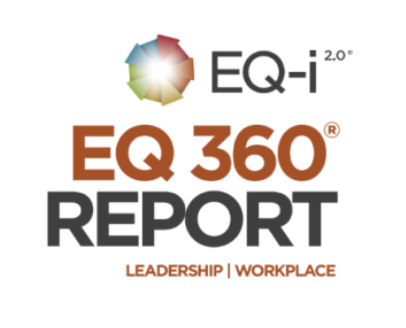 Learn More
Why the EQ-I 360® is valuable for leaders?

The Emotional Quotient 360 provides insights into how you leverage your emotional intelligence based on your interactions with others. The multi-rater report will help you understand how others are seeing you as a leader.

What is each participant provided?

You will be provided a report that will combine all the feedback from your different rater groups. There are two reports available: workplace EQ 360 report, leadership EQ 360 report, and group reports. Based on your desired outcome, we will help you pick the report that best meets your needs.

What are key insights you might have from the report?

Uncover blind spots in how your behaviors are being perceived by others
Gain insight into your consistent strengths across all rater groups
Find development opportunities on your leadership journey
Uncover if you show up differently to different groups.
For example, do you show up different to your bosses than you do to your direct reports. How? Why?
Subscribe to our newsletter now!
Get weekly updates on live streams, news and more right in your mailbox.