ESCI 360 (Emotional and Social Competency Inventory)
Assessment Overview:

Based on 35 years of competency research, the ESCI will give you awareness into how others perceive you in the following emotional competencies: self-awareness, social awareness, self-management, and relationship management.


Assessment Experience
You will identify potential raters from various groups (managers, peers, direct reports, friends, etc.). We will reach out to them with directions to take the assessment. Once you and your raters complete the assessment, we will schedule a one hour debrief to unpack the results. You will be provided with a copy of the assessment results.

Getting all the perspectives really helps you uncover
Empty space, drag to resize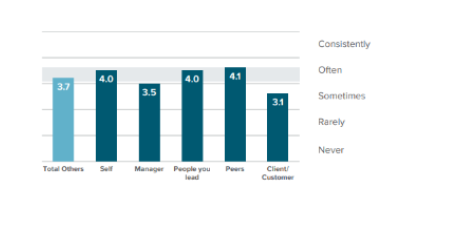 Learn More
Why the ESCI 360® is valuable for teams and organizations?

THE ESCI 360 was created by Daniel Goleman and Richard Boyatzis and is based on an EI framework that has 12 skills across the four categories of self-awareness, social awareness, self-management, and conflict management. The skills include- emotional self-awareness, empath, organizational awareness, emotional self-control, adaptability, achievement orientation, positive outlook, influence, inspirational leadership, coach/mentor, conflict management, and teamwork.

How does the ESCI work?

It is multi-rater assessment that combines your perceptions of your EQ with the perceptions of others who know you well but from different vantage points. The assessment is sent to you and your identified raters. It is not meant to be used for punitive actions, but rather to enhance purposeful learning.

What are key insights you might have from the report?

Uncover growth areas that will help unlock your full potential
Gain insight into your consistent strengths across all rater groups
See the areas your leaders see potential in you and areas that you could develop
Uncover if you show up differently to different groups. For example, do you show up different to your bosses than you do to your direct reports. How? Why?
Developing higher levels of emotional intelligence has been shown to impact job success, greater life success, and higher salaries
Subscribe to our newsletter now!
Get weekly updates on live streams, news and more right in your mailbox.