Thrivealytics™
Assessment Overview:

We have a suite of surveys and narrative based assessments that dig deep into the foundational building blocks of thriving. We help you uncover the current levels of thriving while also providing insights into how to change the future story of thriving in your teams and organizations.


Assessment Experience
We offer multiple components to our survey and narrative-based assessments. We will decide based on your needs, the best way to proceed. We will provide pricing to match the level of customization, number of participants taking the survey and the time needed to do the narrative part of the assessment.

The $300 fee will get you a survey that will help you dive into your individual levels of thriving. We will then schedule a 30 minute debrief.

If you want to do this for multiple leaders, teams or the whole organization- please reach out to us for pricing.
Empty space, drag to resize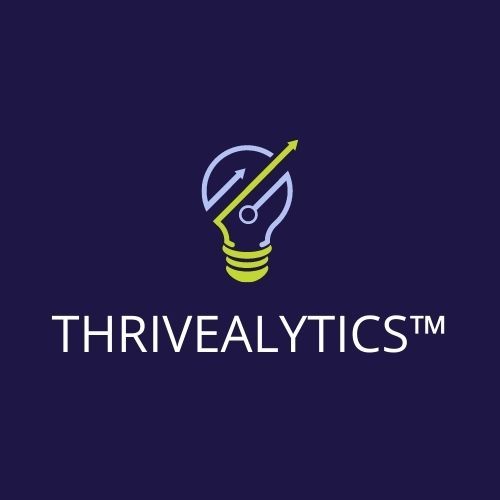 Learn More
Why Thrivealytics™?

Our narrative and systems-focused 360s can be done with individual leaders, teams, or across the whole organization. They uncover pathways and barriers to a culture of thriving. They also can help you think about a problem with a more inclusive perspective.

Why Thrivealytics™ is valuable for teams and organizations?

We have surveys to measure everything. This one looks at thriving, but not just from a survey perspective, we utilize narrative and design-based methods that capture individual, team, and systems views to the components of thriving in your organization. We get you the context you need to take meaningful action. By focusing on thriving through multiple perspectives, you can unlock answers to some of your most complex problems.

How does Thrivealytics™ work?

We have parts of the Thrivealytics suite that remain consistent for all of our clients, but the other parts are custom designed at various points to ensure you are getting the most actionable data points. We will meet for an introductory meeting, design a plan, get agreement on our plan, and then take action. After the data collection, we will compile a collection of reports that can be shared across the various levels of your organization.
Some complex questions our Thrivealytics™ Assessment could help you explore:
Employee Retention
Why are our efforts to retain top performing employees ineffective?
Employee Experience
Where does experience align with the intended culture at the organization and when does it differ? Why?
Hidden Knowledge
What insights do different levels of your organization have that are hidden to you? What is making them hidden?
Workplace Well-Being
Is well-being impacting performance in your organization?
Team Learning
What are the learning barriers in your organization, how is that impacting performance?
Thriving
What are the barriers to our employees and teams thriving? How can we remove them?
Subscribe to our newsletter now!
Get weekly updates on live streams, news and more right in your mailbox.